The Clonenagh Merediths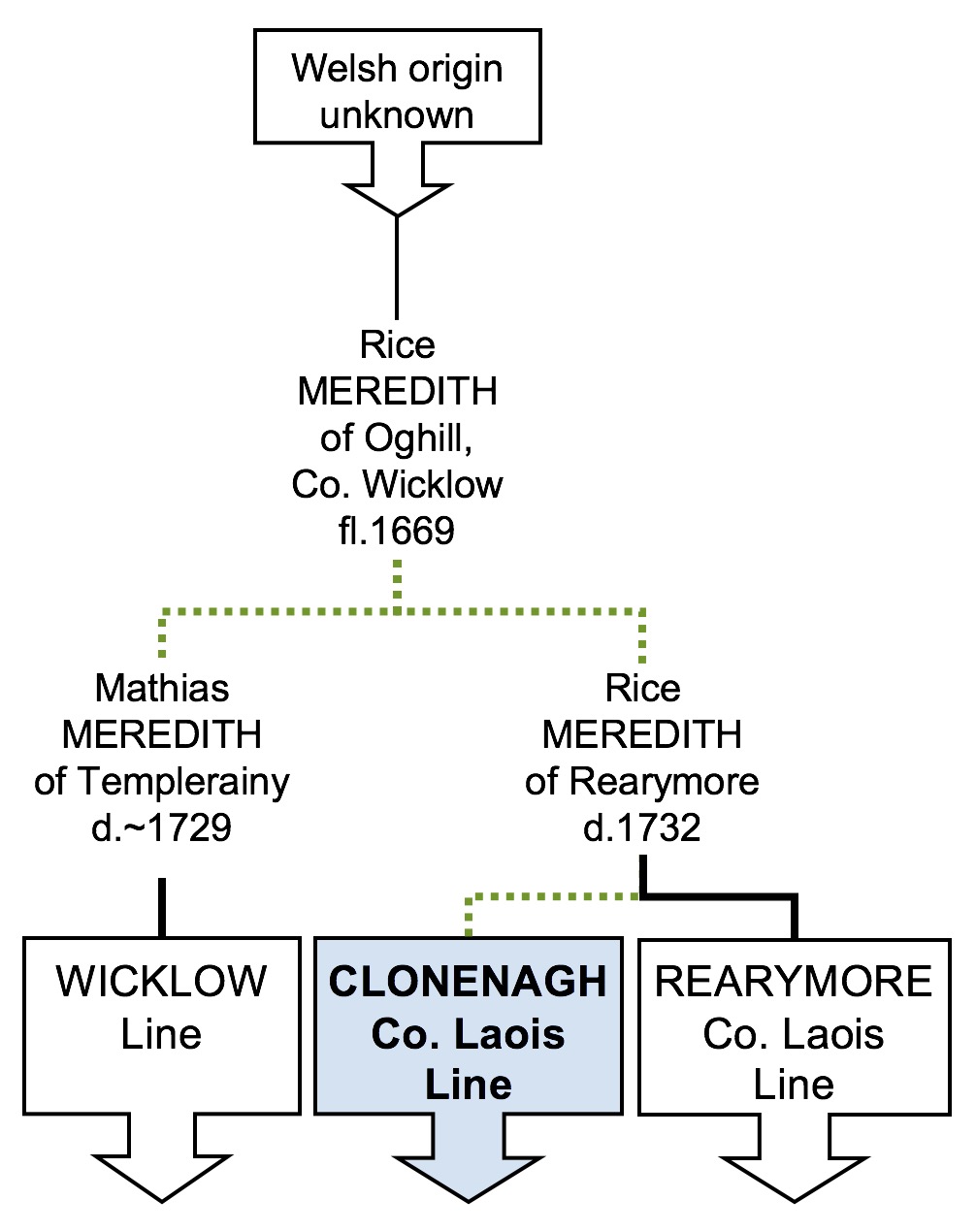 The counties of Laois (formerly known as Queen's County) and Sligo had the largest numbers of Meredith families in Ireland in the late 18th and throughout the 19th centuries. The Merediths in Queen's Co. were concentrated in two areas, the parishes of Clonenagh and Rearymore.
The earliest recorded date for a Clonenagh Meredith is 1761, when the name of John Meredith of Cappagh appeared in a list of Freeholders of Queen's Co. There is no documentary evidence to show exactly how the Clonenagh and Rearymore branches are connected; nevertheless, DNA analyis of Meredith descendants from both branches has confirmed a close relationship. A possible connection is summarised in this Schematic Diagram.
Several Clonenagh Merediths born in the second half of the 1700s have been identified as possible children of John of Cappagh, although documentary evidence has yet to be found:
Site Navigation:
The names of specific persons in this Family Line can be found in the Surname Index.
The family history can also be explored through different types of chart:
an Indented Chart and a Box Chart that show the relationships and family groups visually. Each name on the charts is linked to a separate biographical page for that person.
a Dropline Chart and a Fan Chart that show the descendancy on a single page, but with the names not linked to biographical entries.
A Schematic Diagram shows the connections between the various Meredith Family Lines documented on this website, and their possible connections back to Wales.
The different types of chart and the schematic diagrams can be accessed directly from any page on the website by means of the
Charts
menu item and its sub-items.
Queen's Co. Wilkinsons:
There are close connections through marriage between several generations of the Meredith families of Clonenagh and the Wilkinson families of Queen's Co. The Wilkinson names documented on this website can be found in the Surname Index, as well as through the Search function. The descent of several co-lateral lines of Queen's Co. Wilkinsons is shown on an Indented Chart and a Box Chart, linked to biographical entries, and on a Fan Chart.