The Wicklow Merediths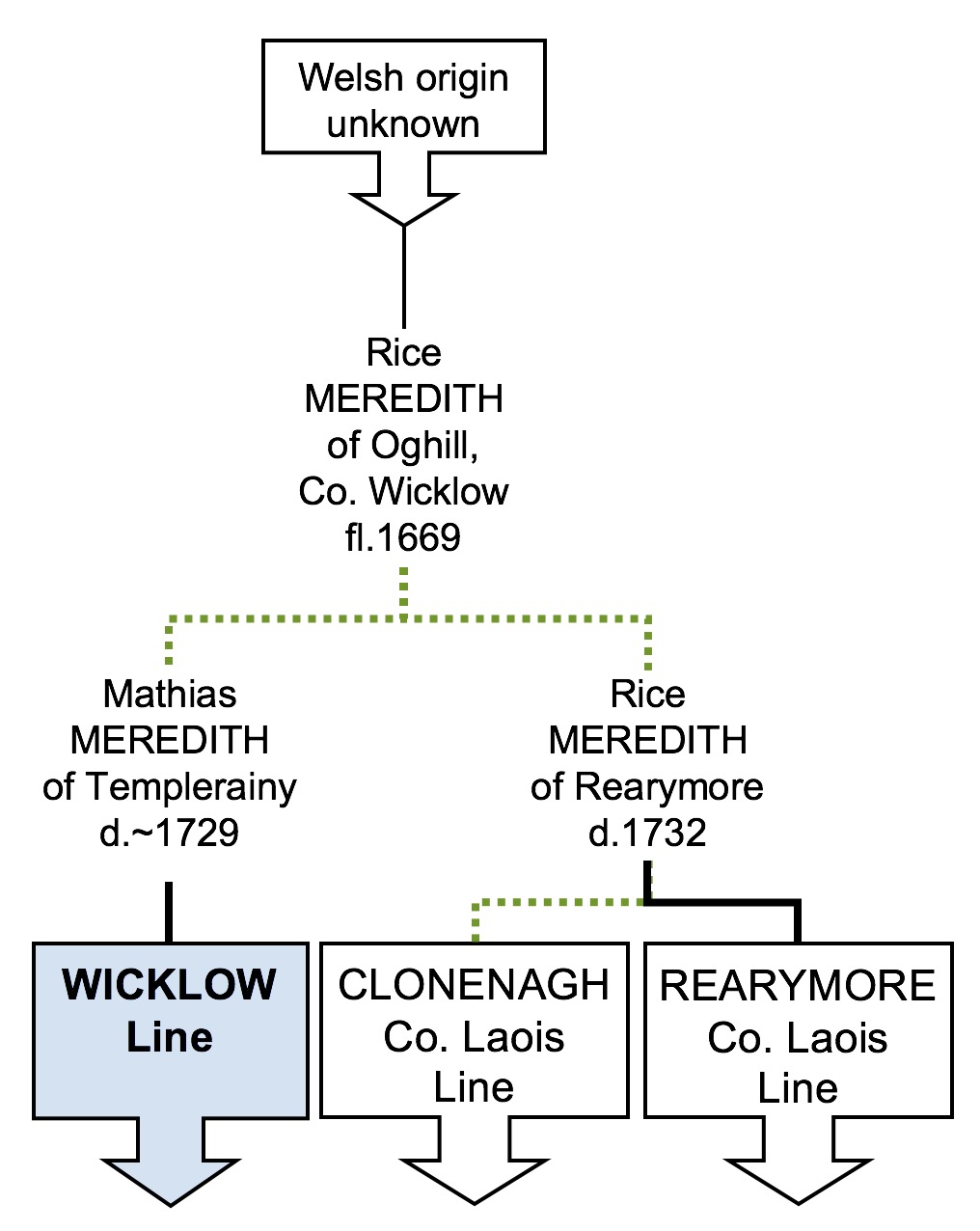 The earliest recorded ancestor in Wicklow was Rice Meredith of Oghill, who was listed in the Arklow Hearth Money Rolls of 1669, and would have been born in the first half of the 17th century. He may have been the first person of this branch to settle in Ireland from Wales. The earliest ancestor from whom there is a documented lineage is Mathias Meredith, who lived in Templeraney House, Co. Wicklow, and who died in 1729 in Co. Wicklow. His son John Meredith (c1711-1786) was named in the will of Mathias, and may be the cousin John referred to in the 1761 will of Thomas Meredith of Rearymore.
This possible connection between the Wicklow and Rearymore family lines has been confirmed by y-DNA analysis of descendants which shows a close relationship between those two branches, as well as to the Clonenagh branch. So Rice Meredith of Oghill is possibly the earliest common ancestor of all three branches - indeed, the unusual first name of Rice occurs in many of the successive generations of all three family lines. The sketch on the right illustrates the possible connection, and it is shown in more detail in this Schematic Diagram.
The descendants of the Wicklow Merediths include a number of very distinguished Merediths in Ireland and in Canada, whose biographical details can be found on this website.
A pedigree of the Wicklow Merediths developed in the 1800s by the Dublin solicitor William Rice Meredith claimed that this family line was descended from John the brother of Bishop Richard Meredith, and therefore had Royal descent from the early Welsh Kings. However, a record in the Genealogical Office of Ireland concludes that there is no evidence whatsoever to support this assertion, and this is confirmed by the y-DNA tests reported on this website. Nevertheless, the erroneous pedigree from the 1800s continues to be circulated.
Site Navigation:
The names of specific persons in this Family Line can be found in the Surname Index.
The family history can also be explored through different types of chart:
an Indented Chart and a Box Chart that show the relationships and family groups visually. Each name on the charts is linked to a separate biographical page for that person.
a Dropline Chart and a Fan Chart that show the descendancy on a single page, but with the names not linked to biographical entries.
A Schematic Diagram shows the connections between the various Meredith Family Lines documented on this website, and their possible connections back to Wales.
The two types of chart and the schematic diagrams can be accessed directly from any page on the website by means of the
Charts
menu item and its sub-items.