The Rearymore Merediths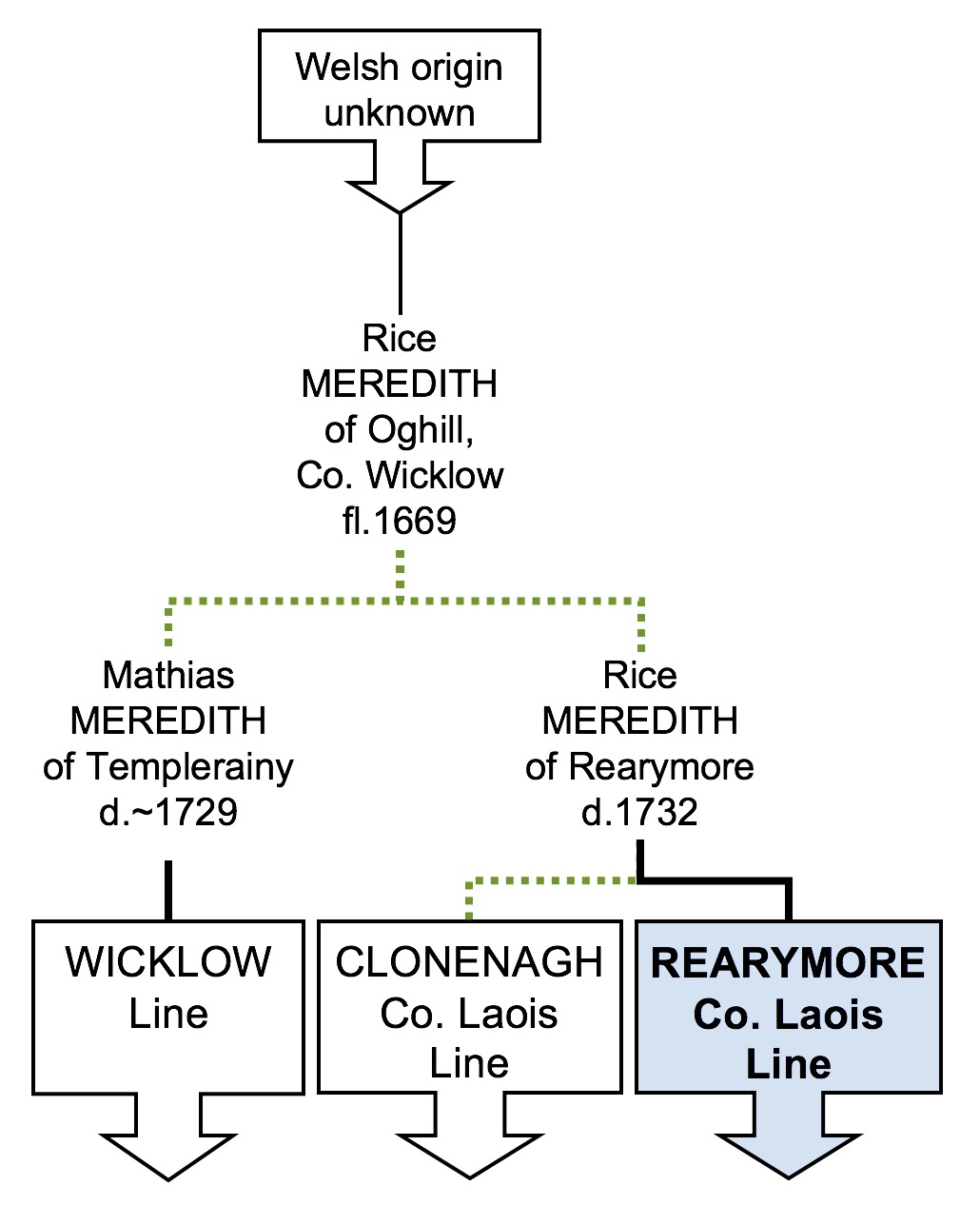 The counties of Laois (the former Queen's Co.) and Sligo had the largest numbers of Meredith families in Ireland in the late 18th and throughout the 19th centuries. The Merediths in Queen's Co. were concentrated in two areas, the parishes of Rearymore and Clonenagh.
The earliest recorded Meredith ancestor in Rearymore was Rice Meredith, who was buried in the churchyard of St. Brigid's, Rosenallis in 1732, aged 72. The adjacent burial plot is that of Thomas Meredith (c1702-1761) so it highly likely that Thomas was a son of Rice, although there is no documentary evidence. Adjacent to both is the burial plot of Mathew Meredith (c1743-1793) who is known to be the son of Thomas.
The 1761 will of Thomas Meredith (c1702-1761) names a cousin John. It seems likely that this John is John Meredith (c1712-1786) of Templeraney in Co. Wicklow, thus connecting the Rearymore and Wicklow Merediths. A close genetic relationship between the two branches has been confirmed by y-DNA analysis of Meredith descendants, which also confirmed their relationship with the Clonenagh family line. The diagram on the right illustrates this possible relationship, and it is shown in more detail on this Schematic Diagram.
The implication is that Matthias Meredith of Templerainey and Rice Meredith of Rearymore were probably brothers. Indeed there is a reference to both a Matthias and Rice in 1691 in the Wicklow Monthly Meeting Record Book of the Quakers. Moreover, in 1696 a Rice Meredith of Templerainey leased land at Ballymoney in Co. Wicklow from Ralph Howard of Dublin. It is possible therefore that the earliest known ancestor of the Rearymore branch is Rice Meredith of Oghill who was listed in the Arklow Hearth Money Rolls of 1669. It is not known whether this Rice Meredith of Oghill was the first of this branch to immigrate to Ireland from Wales, but no earlier records that connect to this particular branch have been found.
There are two distinct lines of descent from Thomas Meredith (c1702-1761) of Rearymore:
Mathew Meredith (c1743-c1793) a younger son of Thomas who lived at Rearymore House, from whom there are descendants in Ireland, UK and Canada. His residence of Rearymore House was built in 1771 and has survived to the present day.
Rice Meredith (c1738-1817) an elder son who lived at Reary Valley, known also as Clonygark, from whom there are numerous descendants in Ireland, Australia, Canada, UK, USA and South Africa. An extensive branch formed from Rice's son Charles Henry Coote Meredith, for which there is a comprehensive account at this link. A great-grandson, also called Rice Meredith, was a famous racehorse trainer in Ireland.
Site Navigation:
The names of specific persons in this Family Line can be found in the Surname Index.
The family history can also be explored through different types of chart:
an Indented Chart and a Box Chart that show the relationships and family groups visually. Each name on the charts is linked to a separate biographical page for that person.
a Dropline Chart and a Fan Chart that show the descendancy on a single page, but with the names not linked to biographical entries.
A Schematic Diagram shows the connections between the various Meredith Family Lines documented on this website, and their possible connections back to Wales.
The two types of chart and the schematic diagrams can be accessed directly from any page on the website by means of the
Charts
menu item and its sub-items.